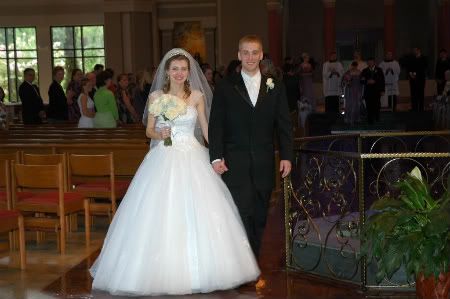 1. Where/how did you meet: We meet at a mutual friend from church's pool party
2. How long have you known each other: since summer of 2001
3. How long after you met did you start dating: it was almost 3 1/2 years (we started dating in December 2004)
4. How long did you date before you were engaged: 1 1/2 years
5. How long was your engagement: almost 11 months
6. How long have you been married: 2 years
7. What is your anniversary: July 14
8. How many people came to your wedding reception: about 160 people
9. What kind of cake did you serve: white cake with
buttercream
frosting and raspberry filling in some of the layers
10. Where was your wedding: St. Anthony of
Padua
, The Wood.lands, TX
11. What did you serve for your meal: D and I had sea bass with whatever else was served, but I don't remember what it was (it was very good, I do remember that)
12. How many people were there in your bridal party: 8 (four on each side)
13. Are you still friends with them all: yes, most were family and we just went to the best man's wedding
14. Did you or your spouse cry during the ceremony: I teared up a little while walking down the aisle
15. Most special moment of your wedding day: walking down the aisle and seeing D
16. Any funny moments: I wasn't trying to smush cake on D, but the piece I tried to feed him was too big and it was funny seeing him try to eat it
17. Any big disasters: it actually worked out
ok
, but our DJ didn't show up, the resort called the company which left the
Hous
.ton
Bri
.
dal
Show to come and do the music, if people didn't know the story they didn't even know it was an issue
18. Where did you go on your honeymoon: Sandals Och.o
Ri
.
os
Jamai
.ca
19. How long where you gone: we left Sunday and returned Saturday
20. If you were to do your wedding over, what would you change: try to relax and enjoy the planning more...also make sure the exit was better planned, neither set of parents knew that we were leaving so they missed it
21. What side of the bed do you sleep on: on the right if you are facing the bed
22. What size is your bed: Queen
23. Greatest strength as a couple: having a good sense of humor
24. Greatest challenge as a couple: dealing with IF and all the frustrations that come with it
25. Who literally pays the bills: He does
26. What is your song: now I'd say it's Lost in This Moment by Big and Rich...it came out just before our wedding
27. What did you dance your first dance to: Amazed by Lonestar
28. Describe your wedding dress: it was a princess style dress with a beaded bodice, sheer cap sleeves, a very full tulle skirt and a long train
29. What kind of flowers did you have at your wedding: D and I had white roses and blue
hydrangeas, MOH and BM had lavendar roses and blue hydrangeas, and the rest of the bridesmaids and groomsmen had lavendar roses
30. Are your wedding bands engraved? No.
Today is also D's grandparents' anniversary (and this wasn't done intentionally but is very cool), and the feast day of
Blessed Kateri Tekakwitha